Lawn Care Experts Sarasota FL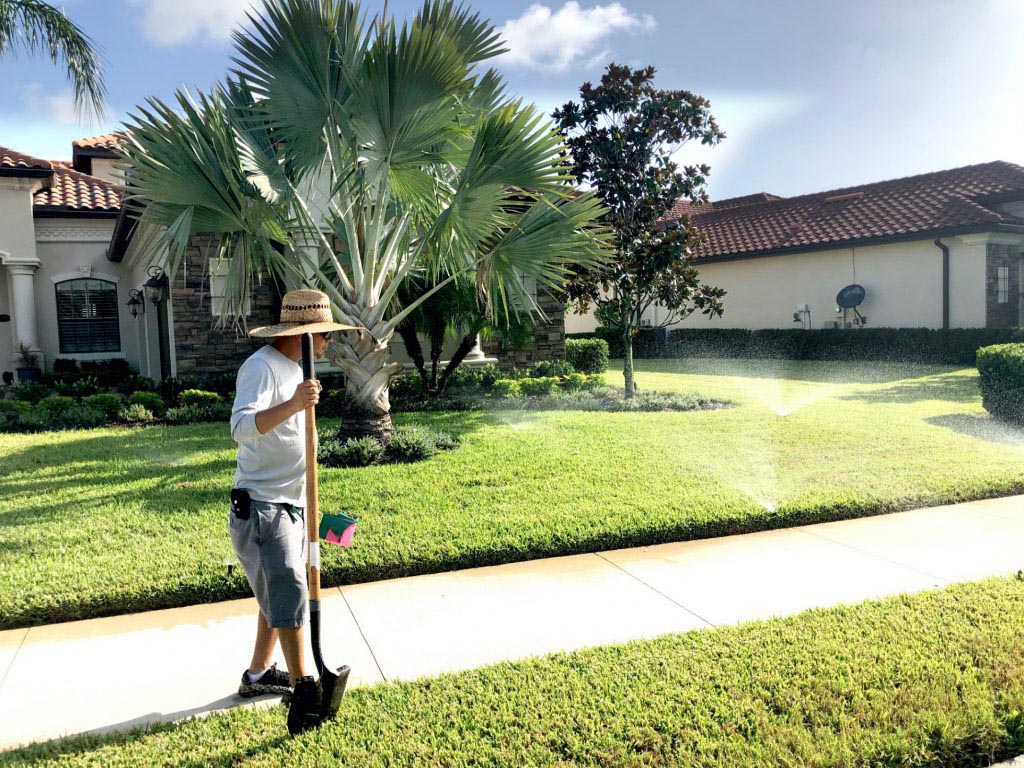 Lush, green, and healthy lawns are expected by property owners everywhere, especially for those in South West, Florida. Our team of lawn care experts has been keeping Sarasota area lawns and landscapes in top condition for more than 20 years. Our landscape business is commercially focused, budget-sensitive, and is passionate about nurturing healthy lawns and landscapes. Our focus is on beautiful and healthy lawns at an affordable price for properties of all sizes.
Lawn Care Experts, Sarasota FL
Quality Lawn Care in southwest Florida must account for poor sandy soil, a multitude of harmful invasive pests, drought conditions, and flooding from frequent storms. Our team keeps your lawn looking it's best with a wide variety of regular services including:
Mowing – Scheduled mowing is the foundation of lawn maintenance. Mowing is essential, not just for keeping turf trimmed and beautiful but also in helping to prevent intrusion from weeds and other unwanted plants. GreenTech is also sensitive to the needs of residential communities and will schedule mowing to keep things quiet during early and late hours.
Fertilizing – GreenTech will test your property and determine the nutritional needs of your turf and plants, then develop a custom fertilizing schedule tailored for your property's needs. GreenTech uses the best available fertilizers including award-winning supplements from Advanced Nutrients.
Edging – Edging lawns and planting beds, gives your property a sharp and manicured appearance that is important for curb appeal. Regular edging also provides a root barrier that shields your other plants from being out-competed by invasive grass or protecting your pathways and anywhere it shouldn't grow.
Trimming – This technique is used to prevent grass from overpopulating certain areas like AC units, trees, plants, etc. This skill is necessary to keep grass from growing in areas that are undesirable and decrease property value.
Verticutting Thatch – Excessive thatch can dry out the root layer of turf and lead to extensive damage to your lawn in dry times if not controlled. Excessive thatch during wet times will hold too much water and cause roots to rot away and mold and other harmful pests to further damage your lawn. GreenTech will regularly verticut your lawn keeping thatch at optimal levels.
Soil Top Dressing – GreenTech will distribute a nutrient-rich lin layer of organic compost across the surface of your lawn. Soil top-dressing improves soil quality and is environmentally friendly, ensuring that your grass grows healthy and strong all year.
Turf Pest Control – Our lawn care experts can prevent and eliminate all manner of harmful and destructive pests such as fire ants, mole crickets, cinch bugs, harmful nematodes, molds, and other microorganisms that can damage a lawn in a matter of days. No matter what tries to harm your lawn our team of experts can protect your landscape from it.
Professional and Cost-Effective Lawn Care For Sarasota FL
Our team of qualified landscape experts offers unbeatable prices for our lawn care services. Our guiding principles are budget sensitive, commercially focused, and besides, we care about quality and caring for the environment. If you're interested in what we do, don't hesitate to contact us, and we'll work with you to create the landscape of your dreams.
GreenTech is an experienced one-stop-shop for professional lawn care service in South West Florida's unique climate and soil composition. Florida's poor sandy soil can be tough to keep turf the turf and grass of your property's lawn thriving all year.
Not just mowing, proper lawn care in Sarasota may require soil top dressing with quality compost or fertilizers. Besides, pests, fungus, harmful nematodes, and turf diseases can maintain a lush green lawn in Sarasota's challenging climate. Irrigation is essential, and accounting for late summer rainfall and preventing rainwater from washing nutrients away is essential in Florida because it has 54 inches of rainfall on average. We are proud of our eco-friendly, low-cost, and no-hassle lawn care philosophy coupled with our experience dealing with Sarasota's unique soil and pests and diseases. Visit our website to get in touch with our team of professional landscapers.
Call today for professional Lawn Care Services for your HOA, Condominium, Home, Or Business
"

Our property has never looked better!

"

Our property has never looked better! Grant, Brendan and his team have been doing a phenomenal job. our zoysia grass had been doing terrible before. After GreenTech has been doing the lawn maintenance the turf has completely rebounded – no more patches of yellowing. Thanks guys!
"

Greentech was great!

"

Greentech was great. We had constant issues with large areas of our lawn dying back in shaded areas that never really filled in. Greentech came in and treated our soil and now the lawn is growing back looking better than when we moved in.
"

The landscape looks great!!

"

We hired GreenTech to solve a problem with our large palm trees yellowing, and a surrounding area that had problems. Grant and his team improved the soil and drainage and solved the issues with our trees. Since then we have not had any issues with the landscape and it looks great!